Lead Guitar, Vocals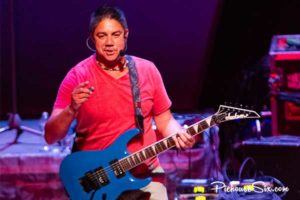 Marty has been playing guitar, singing and writing since 1980. He has recorded multiple albums and written over 100 songs. Hitzeman charted a song called "Missing You Again (BMI- Hit Two Music, Martin S.)" in 1995-1996 and been written up in Billboard Magazine.
As MiD's (Mistaken Identity) lead guitarist and vocalist, he brings a more pop and hooks approach to originals and covers. Mike, Paul, and Marty started playing together in the early 80's with Joe Frehe joining them in the latter half of the decade, and that synergy comes through in their live performance and musical collaboration. Marty is a Digital Marketing Strategist and entrepreneur guy by day.
Marty Plays PRS, Charvel and Jackson Guitars and uses Digitech RP 1000 effects pedal.
Marty mainly consumes slightly above average wine, Miller Lite and High Life and is not a beer snob.